Help:Contents
From Drinktrain
Idiot's guide to uploading a picture to a page

You need to first upload the file to the site.

Click the "Upload file" link in the toolbox menu (left).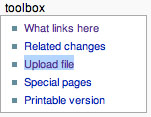 Follow the instructions on that page.

Go to the page you want to add the image to, and click the "edit" tab at the top of the page


Go to the edit pane at the bottom of the screen (below the preview pane)

Insert your cursor where you want you new photo to appear

Click on the icon for image, change "Example.jpg" to your image file name.

Click "show preview" to check your work ;>

Click "save page"

Hope this helps.
Now, go post your picture to your member page so we know who the heck you are!
*pani*